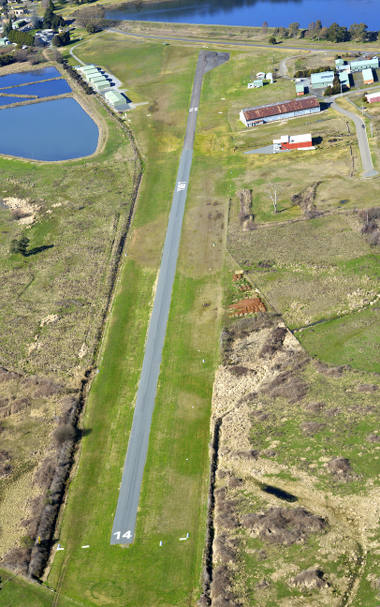 The Mount Beauty Airport Management Association Ltd. welcomes aviators and hopes that you will enjoy the great scenery and the hospitality of the town but asks that you note the following:
The airfield is uncertified
Landing permission not required.
All weather general aviation parking with cable tie downs is located on the south western side of the airstrip and north of the terminal building. Please do not park directly in front of the terminal building.
---
Location
Coordinates 36 44.0'S 147 10.0'E [location on Google maps]
Elevation approx 1,100 AMSL
The airfield is approximately one km north of Mount Beauty – immediately north of the regulating pondage.
---
Runway
Single runway – direction 14/32
Surface
– Bitumen sealed
Width
– Bitumen strip is approx 10 meters wide
– total width (including grass area) is approx 22 meters. Grass RWY Strip may be too soft for landing, depending on preceding rainfall. Contact YMBT.
Slope
– RWY 32 has slight downslope
– RWY 14 has slight upslope.
Useable length (construction in progress)
– RWY 14. Takeoff: Not permitted. Landing: 800m.
– RWY 32. Takeoff: 800m. Landing: 580m (due RWY 32 threshold permanently displaced by 220m)
---
Communications
CTAF frequency 126.0
Area 125.20 Melbourne Centre
All radio equipped aircraft must communicate with other aircraft on 126.0
Other users (e.g. model aircraft operators) must use an air band radio to monitor aircraft movements on 126.0.
GA visitors must be vigilant for non radio equipped aircraft.
Fly Neighbourly
Avoid overflying the township – except when conditions require approaching to land on RWY 32.
Preferred runways for powered aircraft are RWY 14 for landings and RWY 32 for takeoffs.
Airport Facilities
Public toilet.
Shelter (and tea/coffee for visiting pilots) available at terminal building.
No fuel available at YMBT.
Nearest fuel is Albury (approx 40NM NNW) or Wangaratta (approx 40NM WNW). Refer ERSA.